West Valley Slammers Mission Statement
West Valley Slammers Softball uses softball as a tool to teach the benefits of an active life and to help youth develop physically and emotionally toward responsible adulthood. Youths learn to set goals, test limits, acquire self discipline and deal with the ups and downs, which are a reflection of life. 
Bagby Classic Softball Tournament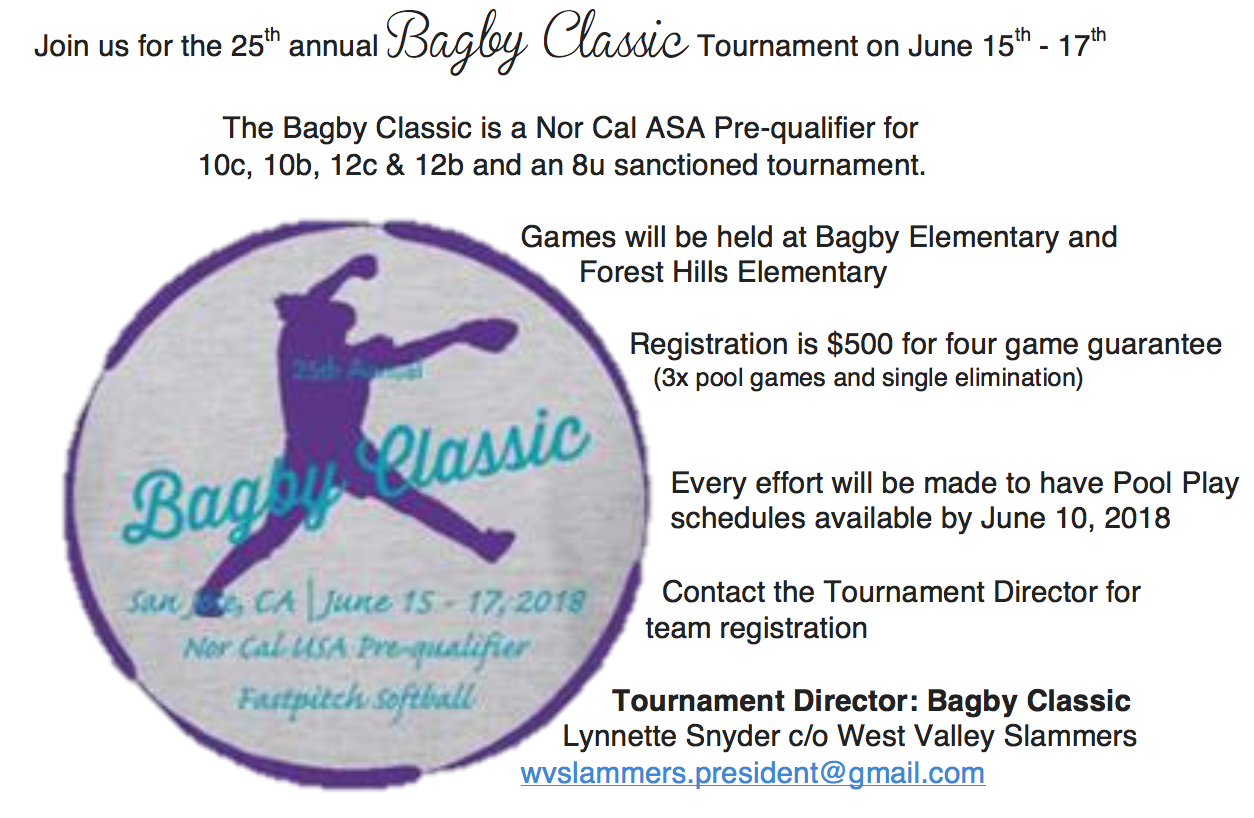 View the pool and bracket schedules on the USA Softball website.

View the Bagby Classic 2018 Tournament Rules and Information here       
Congratulations to the 2018 All-Stars!

We had such a great turnout in all age divisions for the All-Star tryouts on April 29 th!  What a great accomplishment to all the girls who showed up and gave it their all.  Every player worked very hard and displayed great admiration for the sport and should feel good no matter the outcome.  Congratulations to all the girls!  Check out the All-Star tab to see all the teams!

Want to follow along with the All-Stars all summer?  Stay up to date on our Facebook page!
Thank you West Valley Slammers families!

All great things come to an end and this Spring season is no exception.  Thank you to all who came out to closing ceremonies to celebrate all the teams!  We hope you all had a wonderful softball season - we can't wait to see you again next season!    
Interested in joining our Board of Directors?

Please go to the Board of Directors tab to see a list of open positions that are available.  Volunteer terms run from September 1st - August 31st annually, with a league wide election during Closing Ceremonies.  Feel free to reach out to any active Board Members on the list.



---

Quakes Fastpitch

Learn more about Quakes Fastpitch HERE.
MARK YOUR CALENDAR
June 15-17 | Bagby Classic Tournament 
Weather Updates on Facebook
Our weather updates will be on our Facebook page. You can see it on the website, in the bottom-right, below the calendar. Like us on Facebook to get the updates directly on your feed.
League Contact Information

West Valley Slammers
Fastpitch Softball League
P.O. Box 4074
San Jose, CA 95150-4074
West Valley Slammers provides a fun, recreational fastpitch softball program for girls ages 5 to 16.